Although the Creek House is not officially in Sedona proper, it's just minutes away from its thriving downtown area but far enough to offer a serene getaway. Sedona is as artistic as it's many galleries and boasts world-class restaurants and pubs, shopping, spa facilities, golf, wineries and adventure tours. Click here for a Sedona Map to get the sense of the area.

The scenic drive north through Oak Creek Canyon delivers you to Flagstaff, the gateway to the Grand Canyon and Lake Powell. Or, you can choose to spend time enjoying walks through Sedona's beautiful canyons and forests while exploring the area's natural wonders. And if it's history you crave, Sedona is close by to the historic mining town of Jerome, a number of fascinating Indian sites and state historic parks. See Area Attractions for more information.



History



Sedona's history actually began in nearby Oak Creek Canyon when the first permanent area settler, John James Thompson claimed property under this country's 1862 Homestead Act. Initially a ranching and farming settlement, the Sedona area had 20 families living there in 1902, and a postal station was applied for by resident Theodore Carl Schnelbly. The petition was granted and Schnelbly, following a suggestion by his brother, named the new post office in honor of his wife, Sedona. Although the valley was abundant with apple orchards, ultimately it was the scenic wonders of Sedona that became known and tourism surpassed agriculture in economic importance.



In Film



Many of Hollywood's classic westerns were filmed in or near Sedona. Since 1923, at least 76 feature films and many TV productions and commercials have been shot either in full or in part in the Greater Sedona area. The distinctive red rock buttes and desert landscape have been seen worldwide and production continues on a daily basis. Stars who worked here include James Stewart, Henry Fonda, Sterling Hayden, Joan Crawford, Glenn Ford, Robert Young, Tyrone Power, Rock Hudson, Elvis Presley, Johnny Depp, and Robert Deniro.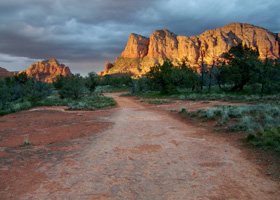 Artist Colony



In 1950, surrealist painter Max Ernst moved to Sedona, and other famous artists followed. Sedona's beauty has attracted artists, poets and musicians ever since. Still an active art colony, Sedona boasts a number of galleries featuring area artists.



Do What You Want



In addition to the plethora of outdoor activities – hiking, biking, horseback riding, tours, tennis, golf – Sedona offers unique opportunities to cleanse the body and soul. Rejuvenate at one of many day spas or meditate at a spiritual vortex. Perhaps gazing at art works for you. Maybe just spending some relaxing time in one of our Jacuzzi tubs with a glass of wine from a nearby Page Springs winery.


However you choose to spend your time, The Creek House will be a refreshing getaway, far from the bustle of everyday life.



Directions





To the Creek House


Creek House is about a 1 3/4-hour drive north of Phoenix, or a 1-hour drive south of Flagstaff. From Interstate 17, take the 293 exit. From the south continue straight onto McGuireville Rd. From the north turn right onto McGuireville Rd. at the bottom of the ramp. Continue a few miles to the "Y" in the road (Spirit Gas Station is there). Turn right onto Lake Montezuma Rd. Once over the bridge, take the first right onto Beaver Vista Rd. The house is the first on the right:
4010 Beaver Vista Rd.



To Sedona from the Creek House


Make your way back to I-17 and head north. Take the first exit,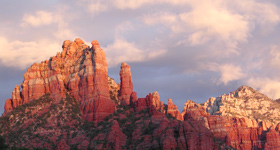 AZ-179 (Exit 298) toward Sedona/Oak Creek Canyon. In just a few miles, you'll reach the town of Oak Creek. There you will start to see the red rocks and buttes that make this area famous. Start your adventure here or continue on 179 a few miles more to Sedona's bustling downtown.



Links:



Sedona Area Map (interactive)
Sedona Chamber of Commerce
City of Sedona
Sedona Tourism and Information Guide